Success story:
BM Supermercados
How EMMA allows BM Supermarkets to improve communication with their users to boost their loyalty card.
We achieve a significant migration of customers to the App increasing opening rates and deliverability.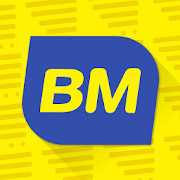 BM Supermercados is a chain of local supermarkets belonging to the Uvesco Group that helps its customers avoid traveling by car and large shopping centers.
Its business model is developed to reach small towns and neighborhoods offering quality, fresh and seasonal products with daily order and service and more than 4,000 assortment references, adapted to the reality of each store.
The team recently developed its mobile app to manage the loyalty of its users, moving its focus from the physical card to the use of the App for the promotion of offers and discount coupons.
Additionally it moved its focus for the communication of the physical channel focused almost 100% in the generic catalog to the communication of the offers in a personalized way through the App.
This change of focus frees BM Supermarkets from the recurring cost of a low-performance general communication to a much more personalized communication for its customers and with a greater redemption of offers, resulting in greater control of the benefit of each promotion.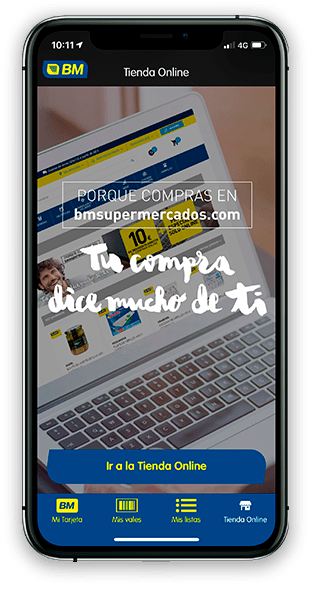 BM Supermarkets is an app that allows you to manage all the advantages of the BM loyalty card used by more than 100,000 customers.
Transition of clients from the physical loyalty card to the virtual card of the App.
Generate a personalized communication of promotions and offers based on the behavior of users in the App and external channels such as supermarkets and online store.
Understand customer behavior to identify areas of focus and product improvement.
Deploy personalized communications by user in different Push & In-App formats to turn the App into the main communication channel with users.
Develop precise KPIs to measure app performance (User Acquisition, Retention and Redemption of promotions).
Results obtained with EMMA
Customer transition
BM Supermercados has increased the number of customers using its App from 28,000 in 2017 to 118,000 in the first half of 2019 (x4).
The number of active users (MAUs) has grown from 30,000 in 2018 to 45,000 in the first half of 2019 (x1.5).
Personalized communication
BM Supermercados has improved the deliverability of its communications up to 99%. Monthly, it sends more than 700,000 personalized messages, of which more than 694,000 are delivered to its customers' devices.
This personalized communication through the EMMA enabled formats provides them with an open ratio of 22.32% with more than 40% access to the promotion.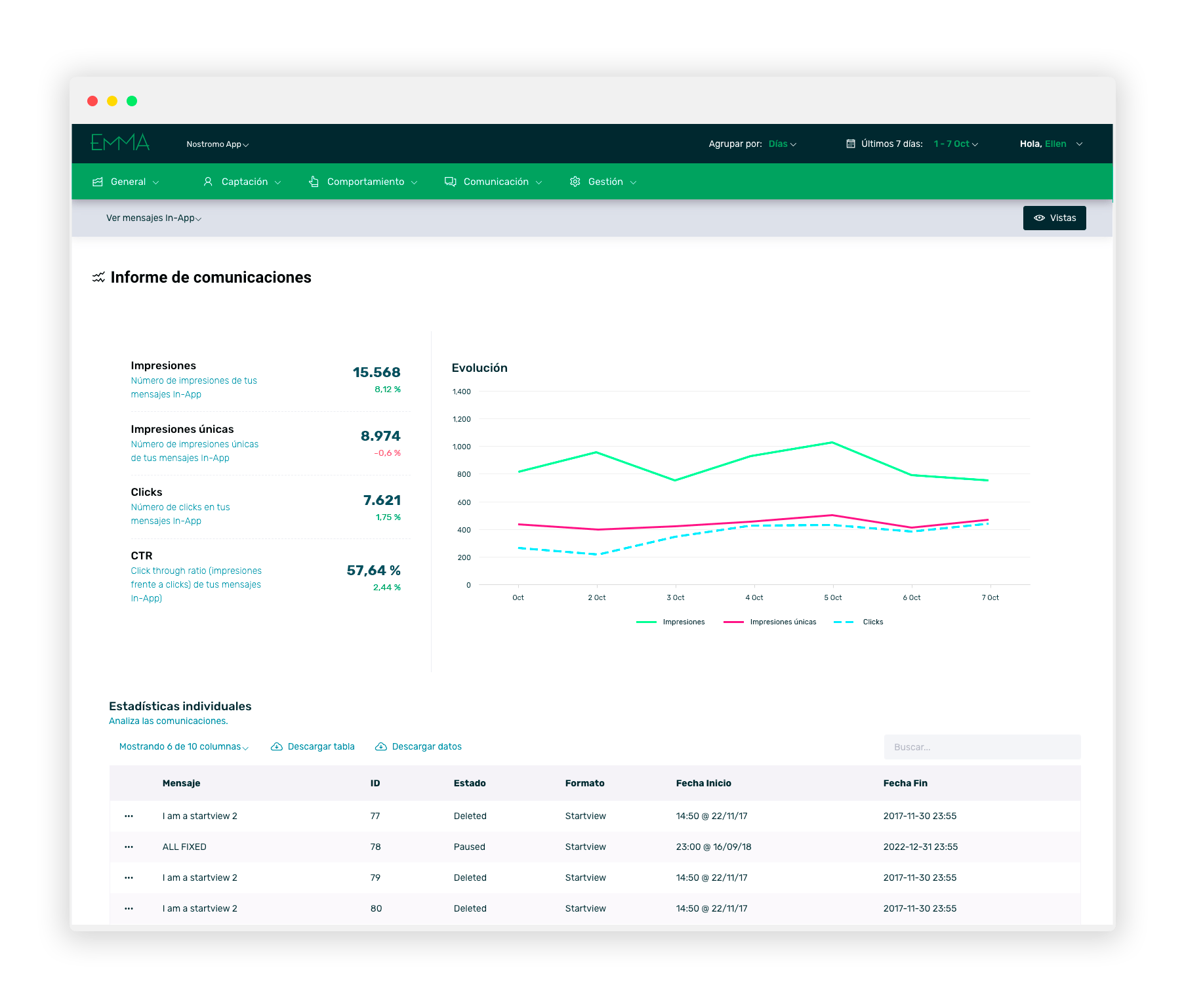 BM uses different In-App messaging formats to motivate users in the use of the App.
The click rates (CTR) obtained for these formats have been very satisfactory:
Banner: Greater than 9%.
Startview: Over 40%.
Adball: Above 50%.
For Push Notifications opening rates vary depending on the type of notification, with Mondays and Thursdays being the days with the best opening ratio:
Transactional Push Notification: Over 6%.
Push notification with promotion: Over 8%.
Rich Push: Greater than 11%.
The success obtained has been based largely on a very personalized communication based on the creation of audiences of users in detail.
By integrating with BM Supermarket backend systems, daily segmentation is performed based on the user's omnichannel behavior:
Users who have bought in the online store that are rewarded with a specific promotion.
Users who have not bought in the online store for x days.
Users who have bought in a specific physical store or area that are rewarded with a specific promotion.
In the sending of transactional Push Notifications, the reactivation of users is optimized through audiences such as the following:

Users who have installed the App but have not registered.
Users who do not know any functionality of the App (example: shopping list).
Users who have not opened the App for x days.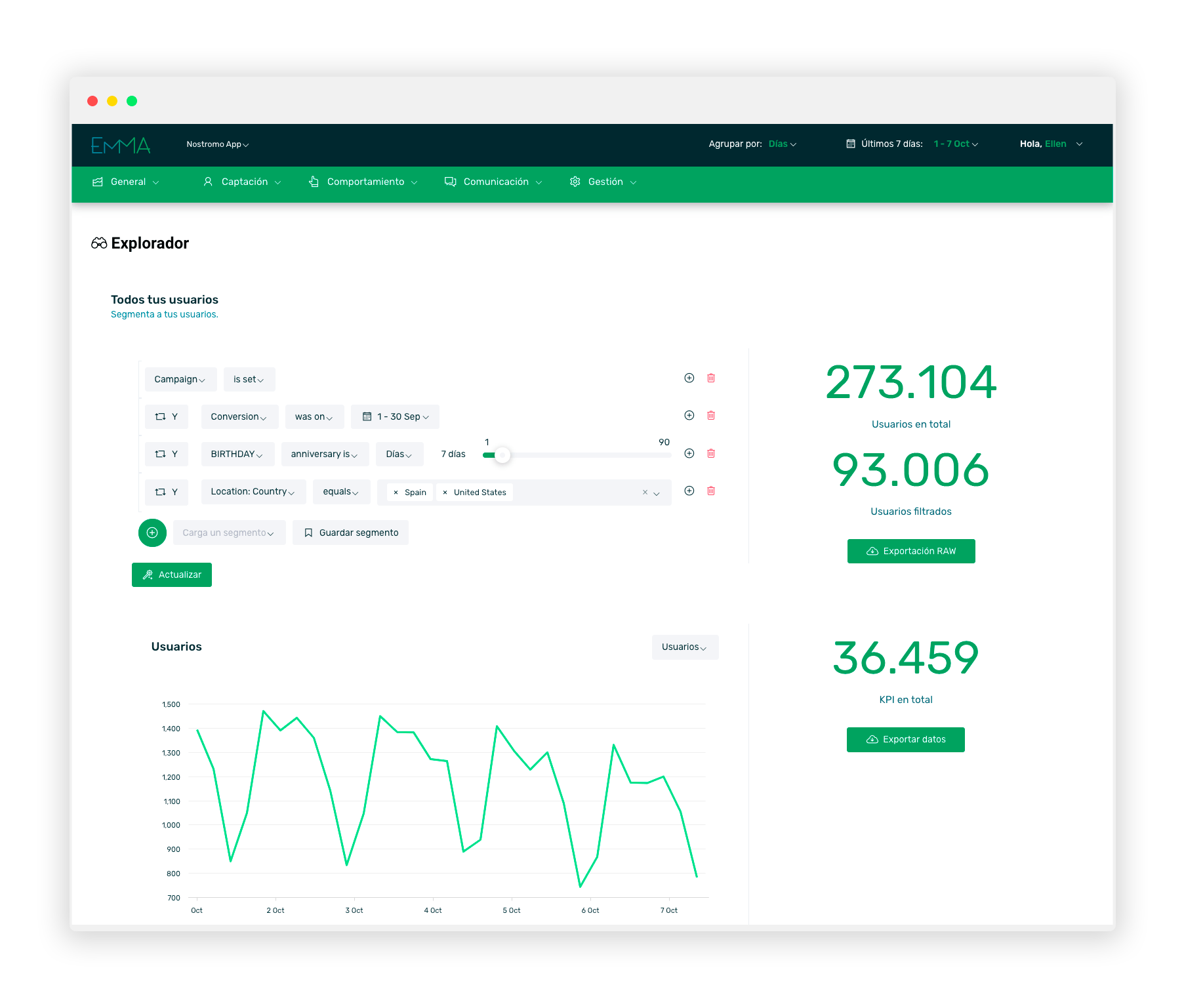 BM Supermercados is delighted with the use and ease that EMMA provides to its marketing and advertising team to expand their communication and measure results in real time.
BM is currently developing his acquisition channel to expand his approach to new clients that are not yet part of his loyalty program.
In order to do this, BM Supermercados is integrating EMMA attribution into its app.